EH MR16 12V 4W Del Punto Del LED Blanco Cálido
EH MR16 12V 4W Del Punto Del LED Blanco Cálido
Marca E Ihome
Características destacadas
Features:100% BRAND NEW! >90% Energy Save = 90% Money Save Max Capacity: 40Kg Suitable for residential and commercial use! Entertainment Lighting, Architectural Lighting, City Beautification, Portable Lighting, Illumination and decoration at home and public areas Direct replace your old halogen lamp in your existing light system as it work on AC 12V and DC 12V. (Most traditional halogen incandescent lamp use AC 12V) This LED lamp generate much less heat than traditional halogen ,filament lamp during operating, that's mean you save more on Air Condition. (It will be a bit of hot during operating, but the degree of hot is you can still holding it on hand without hurt. Unlike filament or halogen lamp, they will burn your skin instantly while operating. However, if you using the LED lamp in an enclosed fixtures with dead air, it will / may shorten the life of the LED lamp.) Note: This LED lamp CANNOT work on AC 110V or AC 220V. This LED lamp work with all types of magnetic transformers but not all electronic transformers, because many electronic transformers require a minimum load higher than 4 watt. So we recommend you check your fixture track and change power LED power supply if necessary. When you find the LED lamp flickering or even go out after just a few second, that's mean your transformer is not fit. Also, many Track Light power supplies will produce voltages as high as 16 with low loading or no loading (LED lamps provide very low loading). You must make sure that the voltage of your existing power supply does not exceed 14 Volts with the LED bulbs installed. The easiest way is test your transformer with a multi-meter in prior.Specification:Net weight:about 33g Package weight:about 42gSize:4.8 (w) x 5.5 (h) cm Color: Silver Power: 4WInput: AC 12VMaterial: Major in Alloy Number of LED per Lamp :4 LEDs Color of Light:3500K Warm White Beam Angle: approx.45° Lamp Base is MR16 Suitable for residential and commercial use!Package Content:1 x 4 LEDs Light Blub
Ver menos
Ver más
Detalle de producto
Condición del producto
Nuevo
Descripción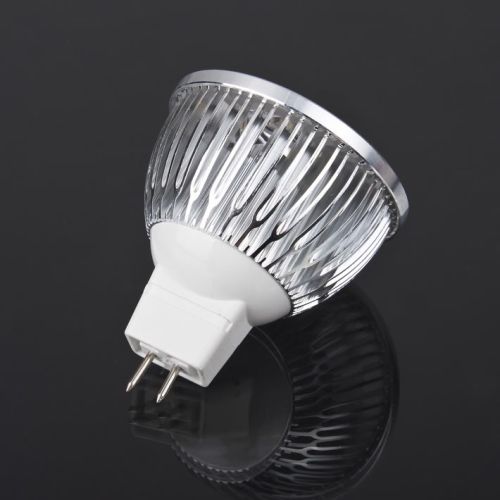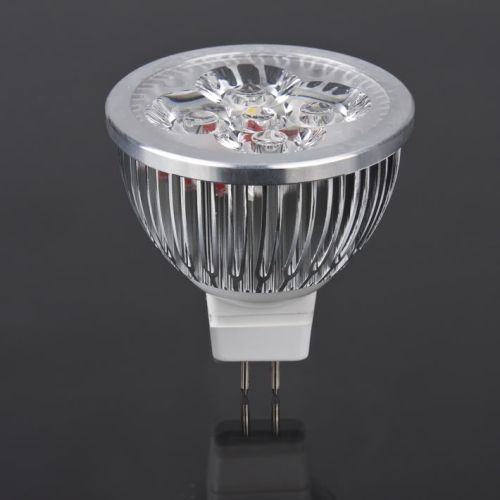 Description:
Features:100% BRAND NEW! >90% Energy Save = 90% Money Save Max Capacity: 40Kg Suitable for residential and commercial use! Entertainment Lighting, Architectural Lighting, City Beautification, Portable Lighting, Illumination and decoration at home and public areas Direct replace your old halogen lamp in your existing light system as it work on AC 12V and DC 12V. (Most traditional halogen incandescent lamp use AC 12V) This LED lamp generate much less heat than traditional halogen ,filament lamp during operating, that's mean you save more on Air Condition. (It will be a bit of hot during operating, but the degree of hot is you can still holding it on hand without hurt. Unlike filament or halogen lamp, they will burn your skin instantly while operating. However, if you using the LED lamp in an enclosed fixtures with dead air, it will / may shorten the life of the LED lamp.) Note: This LED lamp CANNOT work on AC 110V or AC 220V. This LED lamp work with all types of magnetic transformers but not all electronic transformers, because many electronic transformers require a minimum load higher than 4 watt. So we recommend you check your fixture track and change power LED power supply if necessary. When you find the LED lamp flickering or even go out after just a few second, that's mean your transformer is not fit. Also, many Track Light power supplies will produce voltages as high as 16 with low loading or no loading (LED lamps provide very low loading). You must make sure that the voltage of your existing power supply does not exceed 14 Volts with the LED bulbs installed. The easiest way is test your transformer with a multi-meter in prior.Specification:Net weight:about 33g Package weight:about 42gSize:4.8 (w) x 5.5 (h) cm Color: Silver Power: 4WInput: AC 12VMaterial: Major in Alloy Number of LED per Lamp :4 LEDs Color of Light:3500K Warm White Beam Angle: approx.45° Lamp Base is MR16 Suitable for residential and commercial use!Package Content:1 x 4 LEDs Light Blub
Ver menos
Reseñas del producto
Este producto aún no tiene reseñas. ¡Sé el primero en compartirnos tu opinión!
Cuéntanos, ¿qué te pareció el producto?
EH MR16 12V 4W Del Punto Del LED Blanco Cálido
Marca: E Ihome
Enviado y Vendido por:
Producto con Envío Internacional
Producto no disponible con método de pago contra entrega.
Factura fiscal: No disponible.
Tu producto se agregó al carrito
¡El producto no pudo agregarse al carrito por falta de inventario!
Procesar canje
EH MR16 12V 4W Del Punto Del LED Blanco Cálido
Precio por unidad
se encuentra actualmente agotado, intenta con otra versión del producto u otro similar.